Our Country NAIDOC Hoodie
New stock is arriving daily.
Ships within 48hrs
FREE STANDARD SHIPPING*
FREE RETURNS
FREE GIFT when you spend over $180
100% authentic Indigenous artwork
Ethically and sustainably sourced
Support Indigenous employment
Original Artwork by:
Holly Sanders
Aboriginal Bundjalung woman
read more
Designed in collaboration with Holly Sanders, the sand and brown hues represent our country, our earth. It serves as a reminder that we continue to cultivate and maintain the spiritual and cultural connection we have with the land.
Embrace the true history of this country, recognising that First Nations people have occupied and cared for this continent for over 65,000 years.
Screen printed in Brisbane, Australia.
Style: 18500 Fleece Hoodie Jumper
Fabric: 50% Cotton / 50% Polyester Fleece, 271 g/m2
Washing: Cold hand wash
Story: Always Was Always Will Be
ARTIST - Holly Sanders
Holly Sanders, Aboriginal Bundjalung woman
Through her art she aims to share her stories, culture and Country in a contemporary way. The patterns of Saltwater Country motivate her, as do stories from the past.
The colours and patterns utilised in her art are a reflection of her connection to Country and used to develop a modern interpretation of her Aboriginal culture.
Painting and maintaining cultural tradition is important for her identity, wellbeing and expresses the way she understands and respects her culture, ancestors and Country.
| SIZE | CHEST | LENGTH |
| --- | --- | --- |
| S | 102 | 69 |
| M | 112 | 71 |
| L | 122 | 74 |
| XL | 132 | 76 |
| 2XL | 142 | 79 |
| 3XL | 152 | 81 |
| 4XL | 162 | 84 |
| 5XL | 172 | 86 |
Full chest measurement in centimetres.
Happy Customers
Customer Reviews
Write a Review
Ask a Question
09/17/2020
Amanda L.
Australia
The Best Hoodie
Great quality and arrived on time.
09/04/2020
Clarissa W.
Australia
Great fitting tee
Love my NAIDOC T-shirt!
09/03/2020
Elisabeth B.
Australia
Tshirt
It is beautiful and special to wear
09/03/2020
Lokani F.
Australia
Great hoodie
Good to find a company that makes big sizes. Warm and comfortable. Great design. Proud to wear it.
09/02/2020
Darlene W.
Australia
Naidoc Hoodie
this item was purchased for my son and he proudly wears it. The hoodie is that popular, my son and his wife take turns in wearing it. I buy a lot of clothing from Bundarra and will continue to do so as the quality is excellent and the designs are amazing
09/01/2020
Aimee V.
Australia
Do it !!!
This is a great t shirt . Comfortable and nice fitting .
09/01/2020
Clover H.
Australia
09/01/2020
Jessica P.
Australia
Great fit tee, proud to support.
Love the colour of the tee, great fit, feels quality too - soft, brushed cotton. Proud to wear and support Indigenous Australians, and an Indigenous business.
08/10/2020
Grace T.
Australia
Our Country NAIDOC Womens Grey Hoodie
great fit, comfortable item to wear. Love it
08/04/2020
PRU G.
Australia
Love it!
The t-shirt was delivered in days, so very happy with the delivery service. Its become one of my favourite t-shirts to wear, not just because of the message, but because of the fit and quality of the t-shirt material.
08/04/2020
Nathan T.
Australia
Culture Pride
Got a size too big but I think it's deadly thank you
08/04/2020
Shilpa R.
Australia
Beautiful design & very cosy to wear
I accidentally ordered a smaller size than intended as I was doing it in a rush, so the fit is snug but the design is very beautiful and the material is very warm and soft. Looking forward to buying more Bundarra clothing soon!
08/02/2020
Elizabeth R.
Australia
NAIDOC Kids Black Tee
I bought 3 of these awesome NAIDOC shirts for my 3 awesome children. They have worn them at least 3 times and get lots of positive compliments when people see them. They are washing well and seem to be of a high quality fabric. Shirts were delivered promptly and I could easily track them to see where they were. Thanks bundarra for a moorditj (awesome) product.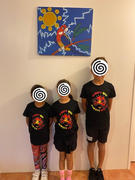 08/02/2020
Anna H.
Australia
Our Country NAIDOC Womens Grey Hoodie
I love my hoodie. It's really warm and good quality. The postage was really quick too. Bundarra are great to deal with.
08/02/2020
Tineke L.
Australia
Anyways was always will be
This hood sits very comfortable is warm and looks great. I love wearing it and the front pocket is very handy.
08/02/2020
Ruth M.
Australia
Wear your heart in front
Great t-shirt, prompt shipping, good quality and good cause.