Our Many Tribes NAIDOC Fitted Polo
New stock is arriving daily.
Ships within 48hrs
FREE STANDARD SHIPPING*
FREE RETURNS
FREE GIFT when you spend over $180
100% authentic Indigenous artwork
Ethically and sustainably sourced
Support Indigenous employment
Original Artwork by:
Charlie Chambers Jnr
Aboriginal Jarowair man
read more
A wardrobe essential for NAIDOC Week, our slim fitting polo delivers comfort and durability in a premium finish. Featuring a classic soft collar with two-button placket, this smart-casual top works great with denim bottoms. 
If you are looking for a more generous cut polo, we recommend the adults unisex version. 
Aaliyah is wearing a size 8 polo

Style: Womens Fitted Polo Shirt
Fabric: 100% Polyester 160gsm Aerolite Mesh
Washing: Cold hand wash
Story: Our Many Tribes
Artist: Charlie Chambers Jnr
-------------------------------------------------------------------------------------
We have partnered with 5 talented Indigenous artists to bring you a stunning new range. Each artwork's story is an embodiment of this year's powerful theme, 'Always Was, Always Will Be'.

NAIDOC Week 2020 acknowledges the true cultural heritage of Australia. First nations people have been custodians of this continent for over 65,000 years.
We at Bundarra recognise this spiritual connection to the land and respect it.

Join us in reflection & celebration of the oldest continuing culture on our planet. Always Was, Always Will Be.
ARTIST - Charlie Chambers Jnr
Charlie Chambers (Jnr) is an Australian Aboriginal artist belonging to the Jarowair tribe from the Toowoomba, Dalby and Bunya mountain region.
"When I was young, I would sit with my elders and listen to these Dreamtime stories, but the stories would go in one ear and out the other. It was when I got older that I started to think about these stories and start painting them".
"The main reason I love painting is to keep the stories that the elders told me about the community alive".
Story: Our Many Tribes
Artist: Charlie Chambers Jnr
The different shades of colours in the background represent different states; but long before those states came along, we had boundaries of our own. The defined segments represent all the different tribes that existed in Australia, long before colonisation. These tribes made up the nation within itself.

When we talk about this year's NAIDOC theme "Always Was, Always Will Be", we talk about the different tribes, different languages and different clans that exist, and continue to exist today.
| SIZE | CHEST | LENGTH |
| --- | --- | --- |
| 8 | 97 | 66 |
| 10 | 101 | 67 |
| 12 | 106 | 68 |
| 14 | 110 | 70 |
| 16 | 114 | 70 |
| 18 | 119 | 71 |
| 20 | 123 | 73 |
| 22 | 127 | 74 |
| 24 | 130 | 76 |
Full chest measurement in centimetres.
Is your team looking for new work shirts? We can take this polo design and customise it with your logos and branding! This includes use of our new recycled fabric with UPF 50+ sun protection.
Needed in a hurry? Order undecorated gear in bulk here
Our shirts all have a unique story - have a browse through our design catalogue to see dozens of other options. If you have a painting or a specific story to tell, let our Design Team work their magic for you!
Prices exclude GST and Shipping costs. Minimum 15 shirts. 4-8 weeks delivery.
Needed in a hurry? Order undecorated gear in bulk here.
Happy Customers
Customer Reviews
Write a Review
Ask a Question
07/02/2020
Evonne S.
Australia
Tribute polo shirt
Very good love it
07/01/2020
Kalun A.
Australia
happy
great, quick delivery
07/01/2020
Jodie L.
Australia
Fantastic product
Bought this for my son. Great fit and he loves it.
07/01/2020
Wendy S.
Australia
Great Quality shirt
Thank you Bundarra for your great products and your very timely delivery of this great gift. My granddaughter loves her new fishing shirt.
07/01/2020
Jacqueline C.
Australia
Awesome shirt
Not only does it look awesome, they keep you warm in the cold. Awesome fit also.
07/01/2020
Hayley E.
Australia
Love the bright beautiful colours! Very cool designs
07/01/2020
Paul B.
Australia
Cultural Awareness
Love it as I love fishing
07/01/2020
Paul B.
Australia
Cultural Awareness
The staff and kids where I work , loved my shirt .
07/01/2020
Aylish F.
Australia
Great quality, exceptional customer service
Outstanding! The staff were wonderful to deal with and assist with my purchase
07/01/2020
Joanne D.
Australia
Turtle
Light weight, both fun and professional shirt for work.
07/01/2020
Joanne D.
Australia
Polo
Comfortable and also gives the impression of slimness
07/01/2020
Amy J.
Australia
Amazing quality and design. I've had so many compliments
07/01/2020
Wayne R.
Australia
Fabulous looking and feeling clothes
I have just purchased three different polo shirts from bundarra and I love all three of them! They look even better than they did on the web site and everyone who sees them remarks on how beautiful they are. They also wash and dry very easily and are impossible to crush. I am unquestionably a very happy customer! :-) Wayne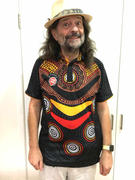 07/01/2020
Vivienne G.
Australia
Voice Treaty Truth Kids Polo
perfect fit, great design and material
07/01/2020
Vivienne G.
Australia
Country NAIDOC Kids Polo
great fit excellent fabric. My grandson loves it wears it all the time
07/01/2020
Leah M.
Australia
Comfort and Style
Loved the shirt. Sizing was perfect and quick to dry.